Lena Huia Booth (12) has had a long connection with the ocean – she has been sailing with her family since she was born and learnt to snorkel when she was seven. Her family is very much entwined in the natural environment of the Bay of Islands, living on their old family land in the Kerikeri Basin, close to the water. Her father, Chris Booth, is known locally and internationally for his large-scale sculptures that consistently draw our attention to the environmental landscape. Little wonder that Lena Huia has the initiative to start her own project, casting a keen, young eye on what is going on in our waters. (News: May/June 2015)
This rich, detailed visual transect report shows perhaps an hour in the life of the underwater world of Whapukapirau Bay, on the west side of the Cape Brett peninsula. Lena Huia decided to undertake a monitoring project here to compare what she remembers from her previous snorkel in this bay with what is there now. Fish Forever met with her dad, Chris, to talk through her diagram and see if we could uncover a little bit more about her motivation and discoveries.
How would you describe this visual to somebody who had never seen it before?
"We did a transect of Whapukapirau Bay, on the Cape Brett Peninsula. We are seeing how many fish there are and what it looks like and if it's changed. We just put the points where we saw the fish. We did it at low tide but we were snorkelling."
Who was your dive buddy?
"My dad."
Chris says: "She swam the whole transect! Someone might have said that we should have done it from deep water coming in, but given our capabilities with just snorkels, neither Lena Huia nor I could swim that deep."
What made you want to do the project?
"I wanted to do some more snorkelling and Uncle John [Booth] asked if I could do a transect somewhere. I thought it would be fun."
Why did you pick this bay? There are many bays out there, you could have picked somewhere closer!
"I guess we just wanted to go there…"
Chris interjects: "Yes. We just love that place. Geologically it's interesting, so it covers a lot of things."
Lena Huia continues: "I wanted to go back there because the time before [last year] I saw a puffer fish, and I wanted to see if I could see another one. But sadly there were heaps less fish this time and many more kina."
So when was the last time you did this?
"I did one before this [last summer] but that wasn't a transect – just snorkelling."
It would probably be a good idea to keep doing this, wouldn't it?
"Yes, I want to carry on doing this transect and I might do some more transects in different places as well."
Over what period of time did you do this?
All in one day. I think in an hour…because my dad gets cold pretty quickly! We saw two paua and they were both based around figure 10. We saw about 20 fish but the kina we didn't count because it was a kina barren all the way through the transect.
Chris says: "The interesting thing is, I used to come here 35 years ago and there were paua everywhere. Under every rock. And there was the occasional legal one as well. But now we could only find two. The year before we saw at least 6 or 7. "
And, Lena Huia, you say there were more fish here last year than this year?
"Yes, definitely. We only saw one snapper, a juvenile, one mok, two marble fish, three spottys, one goat fish,one kahawai, one parore, one red moki and ten triplefins. When I first started snorkelling there were heaps of spotties everywhere…but I didn't see as many as I used to."
An interesting way to present the results. It is very easy to understand because it is so visual. Why did you decide to do it this way?
My dad suggested I should do it in Photoshop and so I did. I thought it would be a good idea to colour-code and have everything on one page.
You don't have to be very experienced to do this exercise, do you?
No you don't need to be experienced at all, you just need to know where you saw the fish and took the pictures…that's really all…and you have to know how to snorkel and swim of course!
And this is nothing to do with a school project?
"No. I just did it because I wanted to."
Chris says: "Lena Huia did it first at the Fish Forever community snorkel day [LINK: news item, website] when everyone did the snorkel out to the reef. John Dawn was her buddy."
Lena Huia continues: "...and then we did another one at Urupukapuka channel, me and my dad. And I said all the things I saw at a Fish Forever hui at Te Rawhiti Marae in 2012 – heaps of different fish, much greener than this transect."
Chris asks me: "What are those little sea slugs – those bright green…?"
Nudibranchs?
Lena Huia cries: "Yes! We saw LOTS of nudibranchs! I was expecting to see some in this transect but we didn't see any."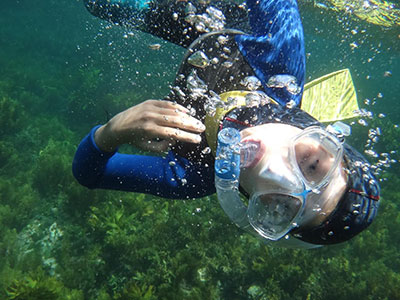 Did you learn anything surprising?
"I was surprised by how little fish there were, and how much more kina barren there is in just a year compared to the time I did it before. I was hoping to see some more puffer fish like last time but I didn't see any."
That's a shame.
Chris says: "We sort of feel that things are happening much quicker than other people might think. But of course next year that will prove it a bit more."
Which is why it is important to keep on doing this each year. You've started quite an exciting project that I'm sure Fish Forever would love to support by sharing your results and encouraging others to do the same.
What are your favourite parts of doing this?
"My favourite part was getting into the water again and snorkelling."
And your least favourite bits?
"That there was suddenly so much of a kina barren and that lots of fish had just…gone. I remember the time before how there was heaps of squid and none this time."
No nudibranchs, very few paua, no squid, no puffer fish…
"And a lot of the fish were quite a bit less. When we first went to this beach, there were heaps of parore; we put out the fishing line and there were about 10 of them nibbling on the bait. This time we only saw one parore. And lots of leatherjackets…we didn't see any leatherjackets this time. As well snapper, there were about five juvenile snapper the time before this, and this time there was just one."
A bit depressing isn't it.
Chris says: "It is depressing for her generation growing up."
That's why it's important we keep doing this sort of practical observational work. This might be an easy way for other young people to be involved?
Chris says, brightening: "…and pick their own transect to monitor!"
Hmmm, you might have started something here, Lena Huia.
Chris says: "You could just start with encouraging your friends to do this. We could take the yacht out, and we could all do a transect."
Lena Huia is already cooking up plans to go camping with her friends at Urupukapuka this summer to continue this project. Watch this space; Fish Forever will be keeping tabs.
We finished our conversation with Lena Huia and Chris telling me about the twelve hammerhead sharks they saw, all heading up the Kerikeri Inlet, on their way to do her monitoring project. You have to keep your eyes peeled around here, or you might just miss something special…