Dean Wright lives and breathes the ocean. His home is one of the original small cottages overlooking Opito Bay, the Kerikeri Inlet, and then out on to the wider Bay of Islands. From here, he also has a bird's eye view of his boat, Arethusa. As a photographer, he creates magical seascapes, often using long exposures at dawn and dusk, exploring "the edges of light". Dean's most recent photography exhibition, Days at Sea, opens this week at Kaan Zamaan in Kerikeri. (News: July 2015)

You're a Taranaki boy by birth. What drew you northeast to the Bay of Islands? Don't tell me it was the fishing?!


It was! Boats, fishing and the ocean have always been it for me. My folks brought me here on holiday as a teenager. We did the cream trip saw all these beautiful islands, dolphins jumping… then I found out about the gamefishing and that was it. I knew I'd found where I wanted to live. When I left school I came up here and worked on gamefishing boats.
So you're a convert to marine reserves...? When you hang out with diehard fishos, do you tell them your story?

You can't shut me up about marine reserves. Many diehards are supportive; they get it. Some are vehemently opposed still! More and more fishos have snorkelled or dived in reserves now. I think that's an experience the opposition camp need to have before forming a fixed view.

Your boat, Arethusa, has been a big part of Fish Forever's on-the-water activities. Can you tell us a bit about her and what it means to you to be able to contribute such a practical asset to Fish Forever's work.

Arethusa clicks over 98 this year. She's a fantastic platform for the science work we've been doing. She'd been a commercial fishing boat for a fair part of her life and her big aft deck's perfect for divers or laying out the baited underwater video kit. She used to be Pickmere's boat; he sailed her up to Fiji in the 30's and charted the Yasawas and also did some of the charting work for the Pickmeres Atlas from her. I'd like to think he's looking down happy that she's still doing good work!
You're a marine photographer by passion, creating rich and vibrant seascapes...but lately we've seen you recording the Project Island Song bird releases. This community and conservation photography must bring a very different sort of pleasure?

My partner Deb is involved with Project Island Song and I've been tagging along. This is such a wonderful project, the Guardians of the Bay of Islands, Ngati Kuta and Patukeha and DoC all working together for the environment. What a difference they're making! So many local people are involved with pest control, weeding, propagating, planting, bird relocations – truly an inspiring project. Imagine what our stunning Islands of Ipiriri will be like when these guys have completed their 20-year plan? Our very own Tiritiri Matangi right here in the Bay, what a taonga. We desperately need to replicate what these guys are doing in the ocean!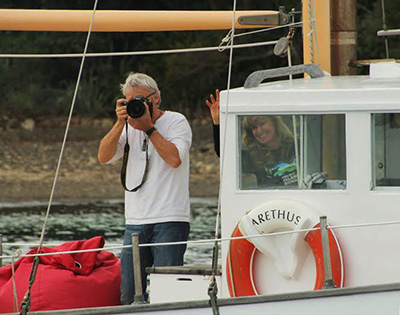 Ever thought of trying your hand at underwater photography?!

No unfortunately my ears are stuffed and I can't equalize, so diving is out.

You have been part of the Fish Forever team since day one. What is it that makes you stick with this campaign?

This is really important work. Pete Crabb's quote about the tragedy of the commons sums it up for me. "Everyone feels they have a right to take from the ocean but because nobody owns it, nobody feels they have to look after it". It's time to stop thinking about ourselves and put the ocean first. Suck it in and protect what we love. We can all see the value of what Project Island Song are doing on land, why would the ocean be any different? And the beautiful thing is if we get it right and set it up, the ocean will take it from there.

Bringing the community together is crucial to Fish Forever's success. How will this best happen?

Our community is passionate about the ocean. We may not all agree on some of ways to protect it, but we have to find a way through. I see reserves as an essential cornerstone of a suite of things that, together, can make things better for life in the ocean. Ngati Kuta and Patukeha established a rahui at Maunganui Bay that has been in force since 2010; the dive operators will tell you what a success that has been.

Bring on more customary tools like this! Mataitai, for example - imagine giving the scallop beds a rest rotationally? Maybe a voluntary fishing accord in the Bay, put the big breeding fish back, don't fish for the whole neighbourhood. We've got to find actions that will make a difference. All these things working together will give future generations a chance to experience what we've experienced, and hopefully much better.

You have an exhibition at Kaan Zamaan this month. Can you tell us about it?

The Exhibition's called Days at Sea. There are 12 marine images - they're all an attempt to capture the beauty I see when out on the water in this incredibly beautiful part of the world. Most are taken on the edge of light – just before or after sunset or rise, a magic time for photography. Some are new angles on iconic Bay of Islands views, some seabirds, and some long exposures capturing the waters movement. The opening is on Friday 10th July 4-6pm at Kaan Zamaan – come along! - and it runs for two weeks.

You can find out more about Dean Wright's work on his website: www.deanwright.co.nz