May 2015: Fish Forever's baited underwater video project around Urupukapuka, Okahu and Waewaetorea is underway. The project is designed and led by Vince Kerr and supported by Arianna Hemi (studying marine science at Bay of Plenty Polytechnic), with Arethusa as the team's research vessel, skippered by Dean Wright. A total of 24 sites have been set up and, just for fun, a camera was dropped at the end of the wharf at Otehei Bay, which is a voluntary no-take fish-feeding site.
The project is designed as a long-term study, useful for comparison into the future – 5 years, 10 years or longer. Once data is gathered and analysed, the resulting report will provide a good indication of the relative abundance of the target species (snapper, trevally, kingfish and a few others). This data should form a baseline for the long-term study of changes once marine protection measures are put in place.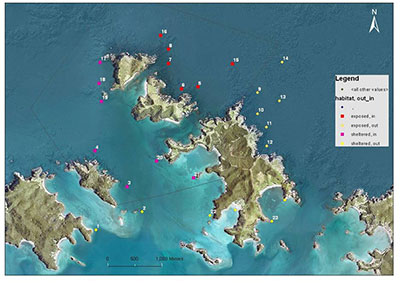 The sites are arranged in four sub-groups: exposed and semi-sheltered in the proposed marine reserve area; and exposed and semi-sheltered outside the proposed reserve site. This approach to monitoring will enable our results to be directly compared to other places like the partially protected marine park at Mimiwhangata, the Goat Island Marine Reserve at Leigh and Poor Knights Marine Reserve where long-term data sets using this method have been collected

To get an idea of what this project involves, check out this BUV video clip taken in the Goat Island Marine Reserve.
July 2015 Monitoring Update
Our Baited Underwater Video (BUV) fish survey carried out in May is now being analysed down in Tauranga by Arianna (supervised by Vince) as part of her 2nd year student project.
While this is going on, NIWA is analysing BUV data they collected in Feb/March 2015 which overlapped with our survey area. Later in the year we will get together with NIWA scientist Meredith Lowe for an opportunity to see how fish numbers changed over these months. Sometime later in the year a report on this work will be completed.