Voice of Land and Sea is a new talk series exploring the Bay of Islands' natural world, hosted by Fish Forever and Living Water.
This monthly talk series will reveal fascinating aspects of the Bay of Islands ecological landscape, celebrate its uniqueness and challenge us to be guardians of it. We hope to encourage people to connect with their environment on a deeper level: to gain more pleasure from their own backyard and raise awareness about the importance of preserving it.
The talks will be presented by experts in their field covering a whole range of topics from new research on the Bottlenose Dolphins in the Bay of Islands, to the impacts of the Goat Island Marine Reserve on the Leigh community.
We are delighted to announce our first talk on Thursday 19 Nov at 7pm at the Scenic Hotel:
New Zealand's rare false killer whales; regular visitors to the Bay of Islands
presented by Jochen Zaeschmar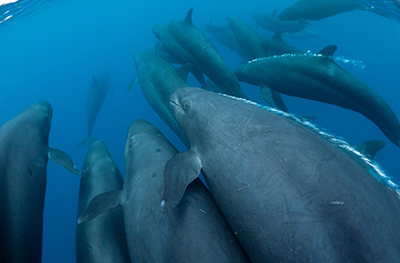 The false killer whale (or Pseudorca) remains one of the lesser known marine mammals, with most of our knowledge about the species derived from occasional strandings.
A long-term research project by Opua-based marine biologist Jochen Zaeschmar has revealed that a small number of false killer whales revisit the waters off northern New Zealand regularly and that the Bay of Islands forms an important part of their home range.

Furthermore, the research shows that New Zealand false killer whales live in constant association with bottlenose dolphins; it is thought to be the first time that such behaviour has been documented anywhere.

Join us for a fascinating look into the lives of these charismatic animals and the reasons for the intriguing long-term relationship with another dolphin species.
Jochen is a marine biologist who has dedicated the last 15 years to the study of New Zealand's rare false killer whales and their relationship with bottlenose dolphins. He lives on his yacht in Opua and is an active member of Fish Forever.