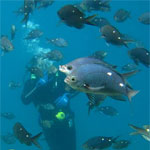 It's a "Look but don't touch!" policy at Deep Water Cove's Maunganui Bay -- the 2-year rahui was formalised last year and you can find the full legislative details online here on the NZ Fisheries site and also here:
Fisheries (Maunganui Bay Temporary Closure) Notice 2010 (SR 2010/399) – New Zealand Legislation http://bit.ly/tlZ5MH
You'll find below a map showing the boundaries of the no-take zone.
If you're planning on visiting the Bay of Islands this summer, a visit to Deep Water Cove is one not to miss - it's absolutely stunning and there just so happens to be rather a wonderful artifical reef down there in the form of the HMNZS Canterbury wreck, lurking in the depths. Perfect for the scuba divers among you.
So the message this summer is -- look but don't touch! Share the magic of a recovering marine environment and, if you see someone fishing, a gentle nudge should be enough...Several local dive operators take daily trips out to Maunganui Bay. We're big supporters of our Paihia operators Dive Ops and Paihia Dive -- super professional, very friendly and great supporters of the Fish Forever campaign.